Stop Wasting Money on LinkedIn Ads
Apply For Your Custom-Tailored LinkedIn Ads Game Plan
*LinkedIn Ads is best suited for those with a monthly ad spend of at least $5,000 and a Customer Lifetime Value of at least $10,000.
Account Management services starting at $3,000/mo USD.
If you're a B2B company, LinkedIn Ads is a no-brainer but the platform isn't easy to use and can be expensive without the right tools and know-how.
Over the last 11 years, we've worked with some of the largest LinkedIn advertisers in the world, spent $150M+ on the platform, and have cracked the code to scaling ads without scaling costs.
Whatever your goals are for the channel, our team of LinkedIn Ads experts can craft a custom-tailored game plan to help you reach them.
Book a strategy call and apply for your game plan today.
Executed through LinkedIn Ads strategies, customized to your unique needs and goals for the platform, at the core of our tried-and-true framework are three stages, tailored to the way B2B consumers buy online today: Build Awareness, Build Trust, and Build Advocacy.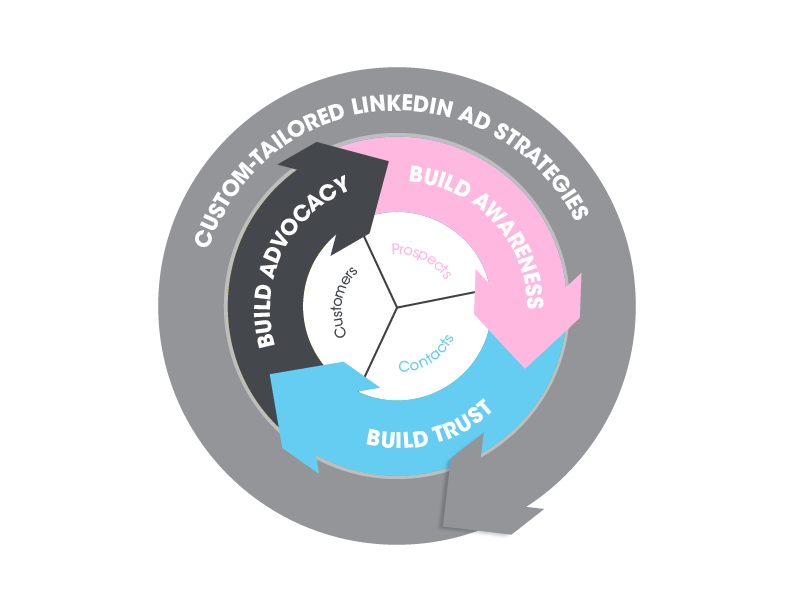 At this stage, thought leadership and education are of the utmost importance. It's about reaching your prospects where they are and positioning your brand as the only reasonable solution to their problems. It requires leveraging gated and ungated content like podcasts, newsletters, blogs, eBooks, checklists, live streams, etc to create demand for your products and services. Brand positioning (who you service, how you're different, what problems you solve, and how your product works) needs to be strong here.
This stage is focused on helping your newfound audience (contacts) build confidence in your company and solutions. It leverages paid retargeting methods to further promote your business as the only reasonable solution to their unique challenges and encourages them to take the next step, such as booking a demo or consultation, starting a free trial, etc. It leverages social proof, like boosted high-engagement posts, customer reviews, case studies, stats, etc, to accomplish this.
This stage is focused on increasing momentum by engaging current customers, company page followers, and other brand advocates, and encouraging them to leave online reviews, educating them on new product features or services, helping them feel included in your company culture / community, etc. It requires closely working with Customer Experience reps and continuing to deliver value through organic and paid efforts, exponentially increasing brand engagement, reach, and word of mouth online.
What You Can Expect Working with Us
From the very beginning, you can expect the best and most up-to-date strategies and tactics that are working right now on the LinkedIn platform, tailored to meeting your unique goals.
We're committed to our craft, which means we're dedicated to you and your success the moment you come on board. You're not just a customer and we're not just an agency. We consider our relationship a partnership and treat it as such.
Because of this, you can expect us to work with you, not for you. Expect us to reduce LinkedIn Ads costs, deliver deep audience insights, and help you achieve your LinkedIn Ads goals through deep partnership.
Custom-Tailored LinkedIn Ads Strategies
Unlimited Ad & Campaign Launches
Deeper-Than-Native Audience Insights
At Least Weekly Communication
Access to a Dedicated Team of Experts
It has been a pleasure working with [the B2Linked] team. We created a marketing machine with our LinkedIn advertisement. B2Linked is attentive, quick to implement changes, bring fresh ideas to the table, while also holding themselves accountable. Our opportunity creation and marketing sourced revenue rely heavily on the success of this channel so we are grateful we have been able to scale this – especially during our busy season!
—Kelsey Krapf, Senior Global Demand Gen Manager, Plannuh
Copyright © 2022. All rights reserved.